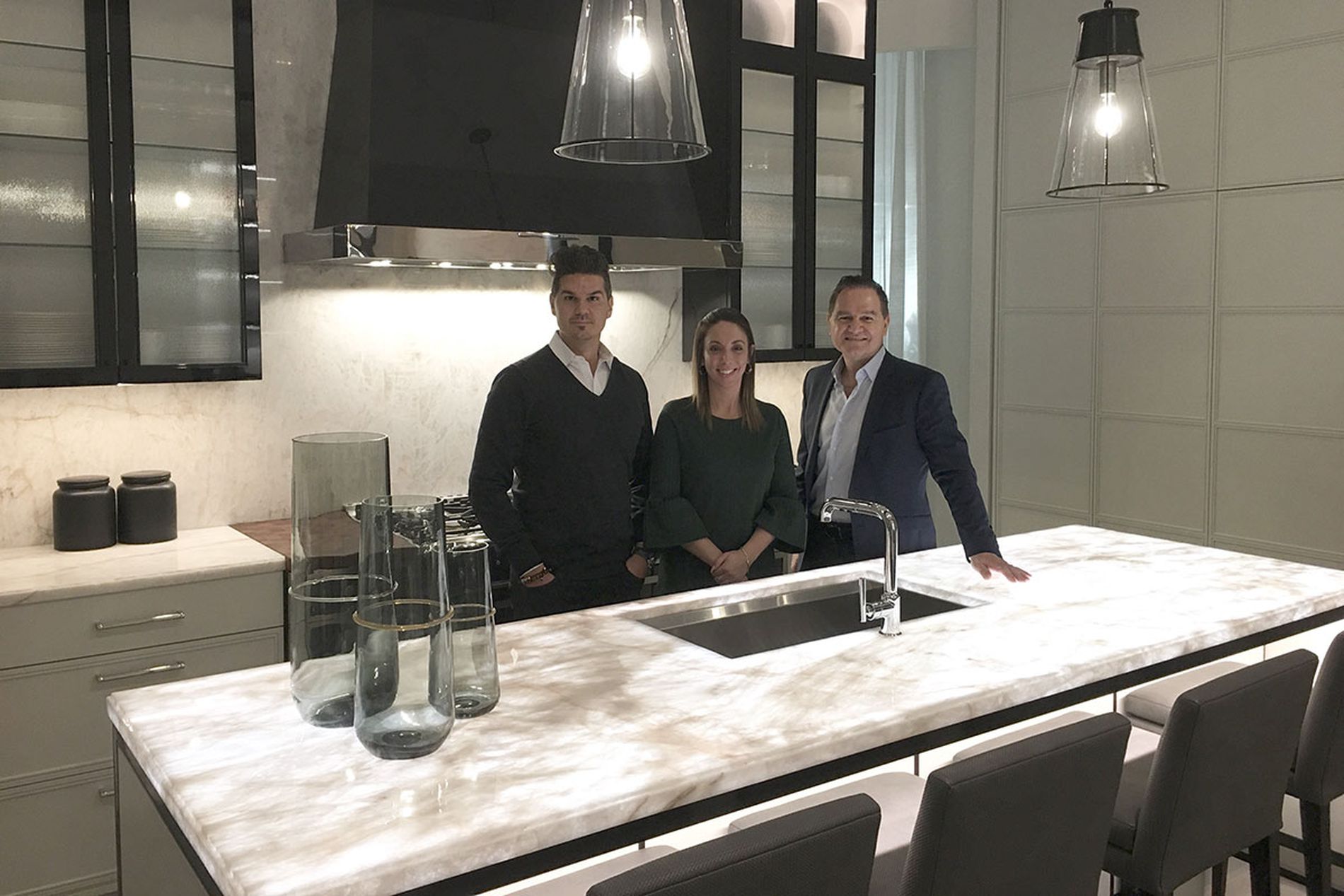 ---
'We wanted something iconic, a head turner'
The presentation gallery for 89 Avenue offers a glimpse into a unique property in Yorkville.
Frank Mazzotta, president of Armour Heights Developments, says the objective of their 2,650-square-foot presentation gallery on Cumberland Street in Yorkville was to provide an experience for their clients that was unlike any other in Toronto.
The target market for the company behind 89 Avenue Yorkville, a luxury condominium project just north of Bloor Street, will be high-end buyers from such areas as Forest Hill, the Annex and Rosedale who might be selling their larger, multimillion dollar homes and opting for the exclusivity and optimal condo luxury living that 89 Avenue Yorkville will offer.
A rare limestone imported from Alabama is one of the features visitors will notice when they walk through the doors into the presentation gallery. The stone will be used on the actual façade of 89 Avenue Yorkville.
Mazzotta says he worked with architect Richard Wengle to create something specific that he says runs counter to the many glass condo towers being built downtown, particularly around Yorkville.
"We wanted a postwar-type of building," he says. "We want something iconic, a head turner."
Mazzotta says Armour Heights wanted to be part of the rejuvenation of Yorkville with a building that reminds people more of what they would find on the streets of New York City. On a visit to New York, he says he was inspired to design and build a timeless building that one might see on Park Avenue.
Visitors to a presentation gallery will also be struck by the ceiling height of 11 feet, through a hallway that leads visitors – by appointment only – into separate areas that show off a dining room, kitchen, en suite, front lobby area and a décor centre where buyers can meet with interior designers, including Brian Gluckstein. There is a selection of herringbone flooring, custom closets and panelling.
The kitchen vignette put together by the Armour Heights Developments team features a La Cornue gas stove handmade in France. There are stainless steel lacquered doors flanking the stove, a backlit white onyx countertop complemented by a full white onyx backsplash, upper cabinetry finished in lacquer panels with ribbed glass, and interior kitchen drawers composed of stainless steel and textured linen.
The master ensuite vignette features imported Italian marble on the floors, baseboards and shower enclosure, a floating shower bench made of Italian imported marble, polished chrome framed vanities and Kelly Wearstler wall sconces on each side of the double vanity sink.
The fireplace lounge vignette features fluted plaster mouldings flanking a handcrafted fireplace made with imported Alabama limestone.
"It all depends on what the client desires, and that's what we want to get across with the presentation gallery," Mazzotta says.
Source: Globe and Mail
---