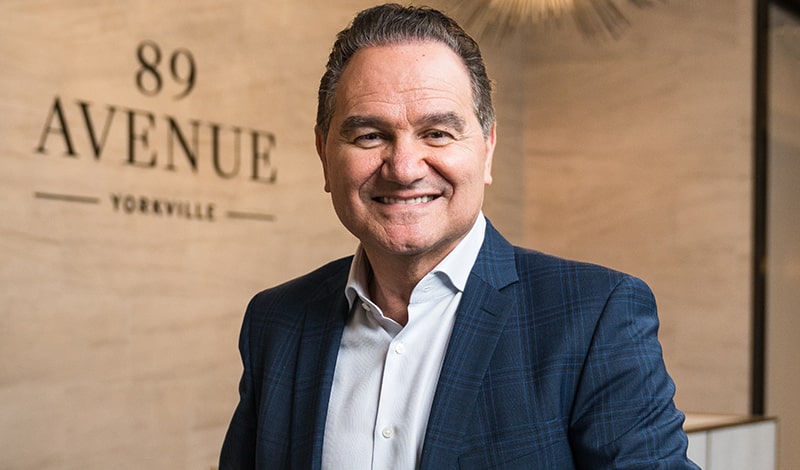 ---
Armour Heights Developments: the passion and pride of performance
With its new 89 Avenue residence in Yorkville, one of Ontario's most respected developers is taking luxury to a new level.
Passion can take many forms and stirs in all of us as a key ingredient to a happy life. Passion about your family and friends, your special hobby, your daily workout, your favourite sports team or your chosen charitable cause. But it would be a challenge to find someone as passionate about their work as Frank Mazzotta, president of Armour Heights Developments, one of Ontario's most respected real estate developers, soon to make its mark in Toronto's exclusive Yorkville neighbourhood with its luxurious 89 Avenue condominium residence. "I really love what I do and am always out on job sites in my work-boots," says Mazzotta. "We live on the philosophy of achieving the best and taking no shortcuts, and every day I've built each project with pride, setting the standard for the neighbourhood and delivering the highest quality to our clients without compromise."
Since 1988, Armour Heights Developments has been delivering exceptional levels of quality construction, bespoke design and superior craftsmanship, setting an enviable standard among multi-dimensional real estate companies. Mazzotta's vision when he started the company was to design and develop top-tier residential and commercial properties across the GTA, which started with 14 semi-detached homes in the desirable Toronto neighbourhood of Bayview and Eglinton.
Today, the company has more than delivered on that vision with an impressive portfolio of majestic custom homes of timeless elegance, townhomes, retirement residences, adult lifestyle residences and commercial building properties throughout the Toronto region. Through the decades, it has remained a family-owned and operated business, which has allowed it to maintain a boutique approach and excellence in customer service.
"We've all got a stake in this and we're going for the same goal to achieve the highest standards," says Mazzotta. "Our theory is quality over quantity and building a home as if it's our home. By focusing on one project at a time, we can ensure excellence. Our reputation is rooted in delivering quality projects by working with the right trades, and they all know what we will accept."
Armour Heights Developments's attention to detail is clearly evident in its superior design of fine custom homes. As one of the area's most experienced builders, the company prides itself on old-world craftsmanship in delivering the nest in quality finishes and working with its clients in designing homes that are not only known for their exceptional elements and beautiful design features, but also their efficiency and functionality to accommodate everyday modern living.
"THIS WILL BE A QUINTESSENTIAL BUILDING AND A REAL HEAD-TURNER INFLUENCED AND DEFINED BY ITS YORKVILLE LOCATION"
When it comes to interacting with clients, "most important is to meet with them as many times as required to understand their needs and wants," explains Mazzotta. "Understanding them is vital, and we ensure every interaction reinforces our understanding and clients' shared values. No aspect of the project ever strays from quality, luxury and commitment."
Armour Heights Developments is elevating elegance to a new level with 89 Avenue, a luxury condominium in the heart of Toronto's Yorkville, one of the most desired neighbourhoods in North America. With tailored interior designs from Brian Gluckstein, paired exquisitely with the architectural elegance of Richard Wengle, this will be a premium luxury address which again raises the bar for Armour Heights in continuing to exceed client expectations in both product design and customer service.
"This will be a quintessential building and a real head-turner influenced and de ned by the Yorkville location," says Mazzotta. "We're bringing a little bit of New York's Central Park area to Toronto, with a postwar design rather than a glass box, to better blend into this incredible Avenue Road location."
With valet, porter and concierge services, as well as bespoke designs, 89 Avenue will o er grandeur and opulence, and its 3,900-square-foot footprint allows options for various suite sizes and units per floor. The residence will also feature destination elevators, customized kitchens and the latest in automation and technology that will reflect this premium address.
"We're passionate builders and our attention to detail is the best, and the design and craftsmanship will be meticulous to exceed all expectations," says Mazzotta.
There's that "passion" reference again, a common thread in any conversation with Frank Mazzotta. In an industry of blueprints and permits, equipment and tools, he firmly believes it's the heartbeat that matters most, and his people make the difference in allowing Armour Heights to always deliver a superb final product at every turn.
Success for 89 Avenue in Yorkville, or any of Armour Heights's other properties, is not just in the "numbers" for the company. Rather, it is more in the intangibles, where the true character of the company can be found.
"Success is keeping our customers happy," beams Mazzotta. "Where we can walk through a finished project, and people tell us they are happy to live there. We are always passionate about what we are building."
In such a fast-paced industry as today's real estate market, it's comforting to know that a trusted and reputable company like Armour Heights Developments, with its unwavering commitment to quality construction, beautiful designs, superior customer service and three decades of experience, is always there for homeowners and is continuing to set the standard for perfection.
Source: dolcemag.com
---